2nd NIZO Plant Protein Functionality Conference
Online and On-demand | 11-13 October 2022
Watch again on-demand
On-demand access for 6 months is now available, to purchase please email c.mole@elsevier.com (Please do not email credit card information under any circumstances.)
Fee: €99 + VAT
Watch recorded sessions (talks and posters)*
View ePosters
Message authors and other attendees
Access exhibitor profiles and materials
View abstracts of all presentations
* On-demand access includes recordings of talks and slides, poster pitches and posters from authors that have agreed for post event distribution: the organisers cannot guarantee on-demand access to all presentations
The 2nd NIZO Plant Protein Functionality Conference will combine the most recent scientific developments in plant protein functionality. It will provide a unique opportunity for experts from academia and the food and ingredients industry to interact and to apply their knowledge and latest research findings to the design and manufacture of new and improved plant-based foods and plant protein ingredients.
With almost 10 billion people to feed by 2050 combined with the environmental targets set for this period, we must evolve the way we produce and consume food. NIZO and Elsevier are committed to supporting research for better food and health, tackling the challenge of developing plant-based protein ingredients and foods to feed the world in a more sustainable way. Considering the fact that consumers do not compromise on taste when looking for vegetarian or vegan products, this is a challenging task ahead.
Conference Topics:
Poster abstracts are now invited on the following topics and should be submitted using the online abstract submission system.
The focus of this scientific conference will be on the following aspects of plant protein functionality:
Plant and single cell protein ingredient manufacture
Process-product interactions affecting plant protein functionality
Protein structure, stability and interactions within food products
Fermentation to improve the quality of plant protein ingredients and products
Influence of plant protein ingredients in food product structure and stability
Nutrition and digestion of plant proteins in relation to human food
Sustainability along the chain of plant protein ingredients and application in foods
The conference will embrace all sources of plant proteins, including but not limited to soy, pea, faba bean lupin, canola, rice, sunflower, oat, mung bean, chickpea, flaxseed, wheat, corn, leaf proteins, potato, quinoa, nuts and duckweed, as well as proteins obtained from biomass produced by fermentation (single cell proteins). The conference will bring together experts from the fields of plant protein technology, (bio)chemistry, processing, physics, product formulation, sensory, health and nutritional sciences.
All contributors of an oral or poster presentation at the NIZO Plant Protein Functionality Conference are invited to submit a manuscript for a Special Issue of the Journal Future Foods
Our high-quality online platform provides excellent technical functionality to deliver a conference experience, maximise exposure of all research presented, and encourage interaction and discussion for both oral and poster presenters.
Participate live from your desktop or mobile device to: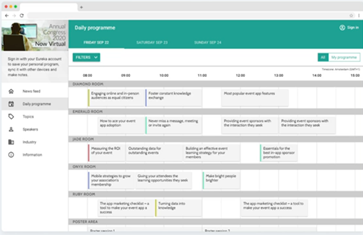 Live-stream a personalised schedule from the entire programme to match your research interests.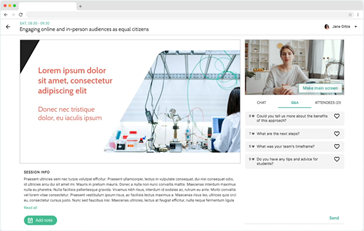 Engage with our inspirational speakers and other attendees during the live-streamed sessions: Ask questions and participate in live chat and polls.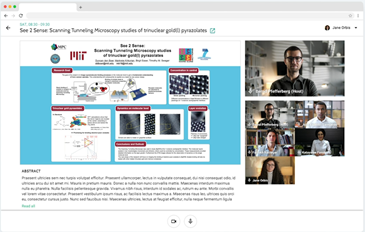 Review the latest research in the ePoster hall and discuss directly with the author in 1:1 scheduled meetings during the live event.
Plus:
Connect with other attendees during the live event to chat and arrange one-to-one meetings.
Communicate your research to a wider, more-inclusive audience: our lower fees, online delivery and post-event on-demand access will make the event more accessible to all.
Visit the live exhibition booths to meet industry partners
Enjoy more flexibility with on-demand access to recorded sessions for 6 months after the event*.
* On-demand access includes recordings of talks and slides, poster pitches and posters from authors that have agreed for post event distribution: the organisers cannot guarantee on-demand access to all presentations.
---
Organising committee
---
Fred van de Velde (NIZO; chair)
René Floris (NIZO)
Celine Brattinga (NIZO)
Scientific Committee
---
Prof. Dr. Fred van de Velde (NIZO and HAS University of Applied Sciences) 
Dr. Peter Wierenga (Wageningen University)
Dr. Renske Janssen (NIZO)
Dr. Emma Teuling (NIZO)

Speakers
---
Dr. Rotimi Aluko, University of Manitoba, Winnipeg , Canada
Dr. Juliana de Moura Bell, University of California Davis, USA
Prof. Dr. Michael Beyrer, University of Applied Sciences and Arts of Western-Switzerland (Hes-so), Switzerland

Prof. Dr. Ir. Jean-Paul Vincken, Laboratory of Food Chemistry, Wageningen University, The Netherlands
Dr. Els de Hoog, NIZO, The Netherlands